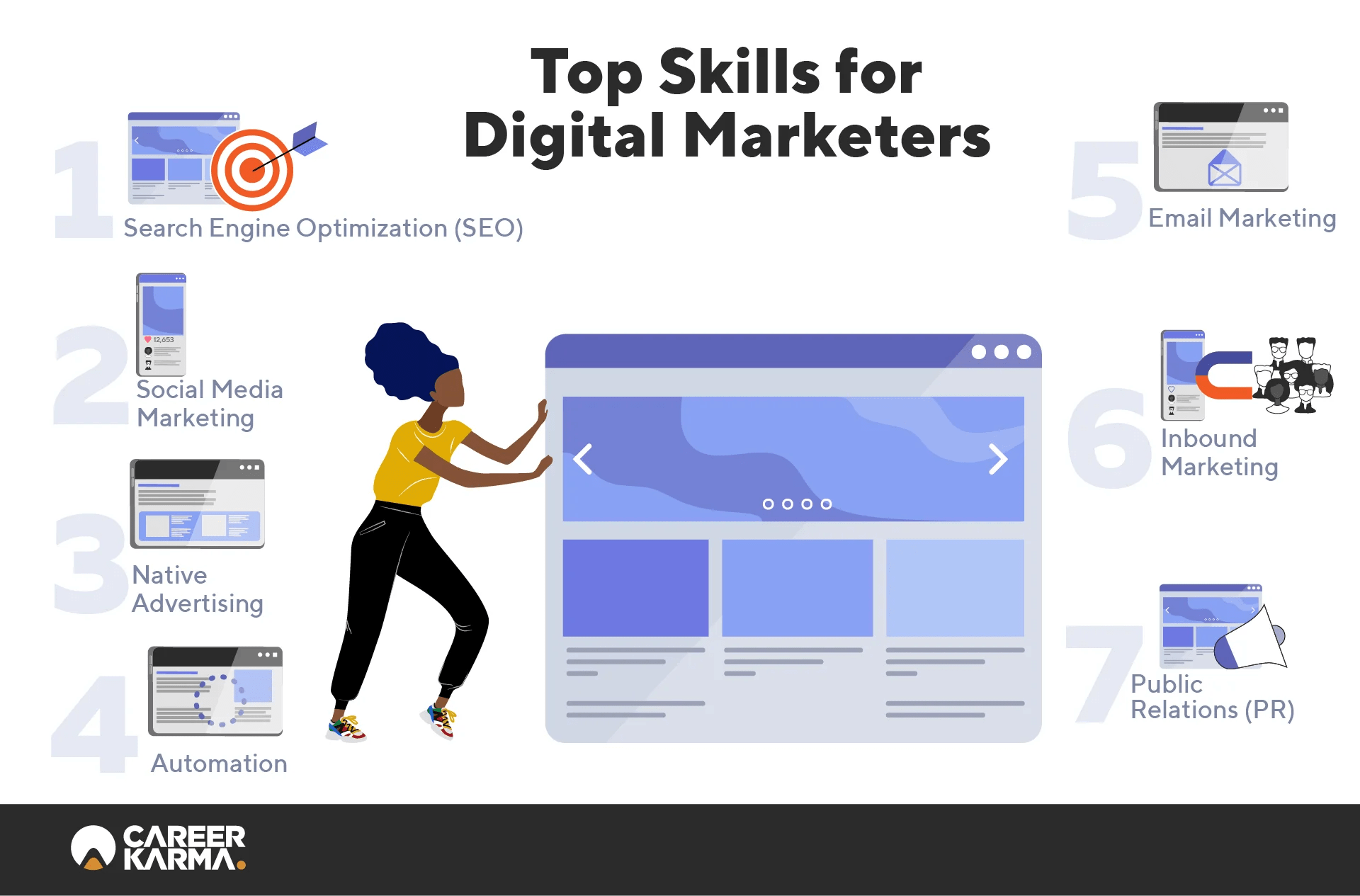 How to Learn Digital Marketing
The Internet has changed the way companies think about advertising. In the past, marketing teams reached their audience via television, radio, newspapers, and other similar mediums. Now, companies are adapting to the changing focus on technology. Thus, a new frontier in marketing was born: digital marketing.
Shopping, advertisement engagement, and spending can now be done with a simple click on the phone. This has created an opportunity for advertisers to reach their audience in new and faster ways. Given this, there has been a renewed urgency to promote products and services through social media platforms, apps, and websites.
So, how do you become a digital marketer? That's the question we aim to answer in this guide. Here, you'll find everything you need to know to make a decision about whether a career in digital marketing is for you. You'll also find additional assets, digital marketing salaries, and training programs to help you get started on your journey.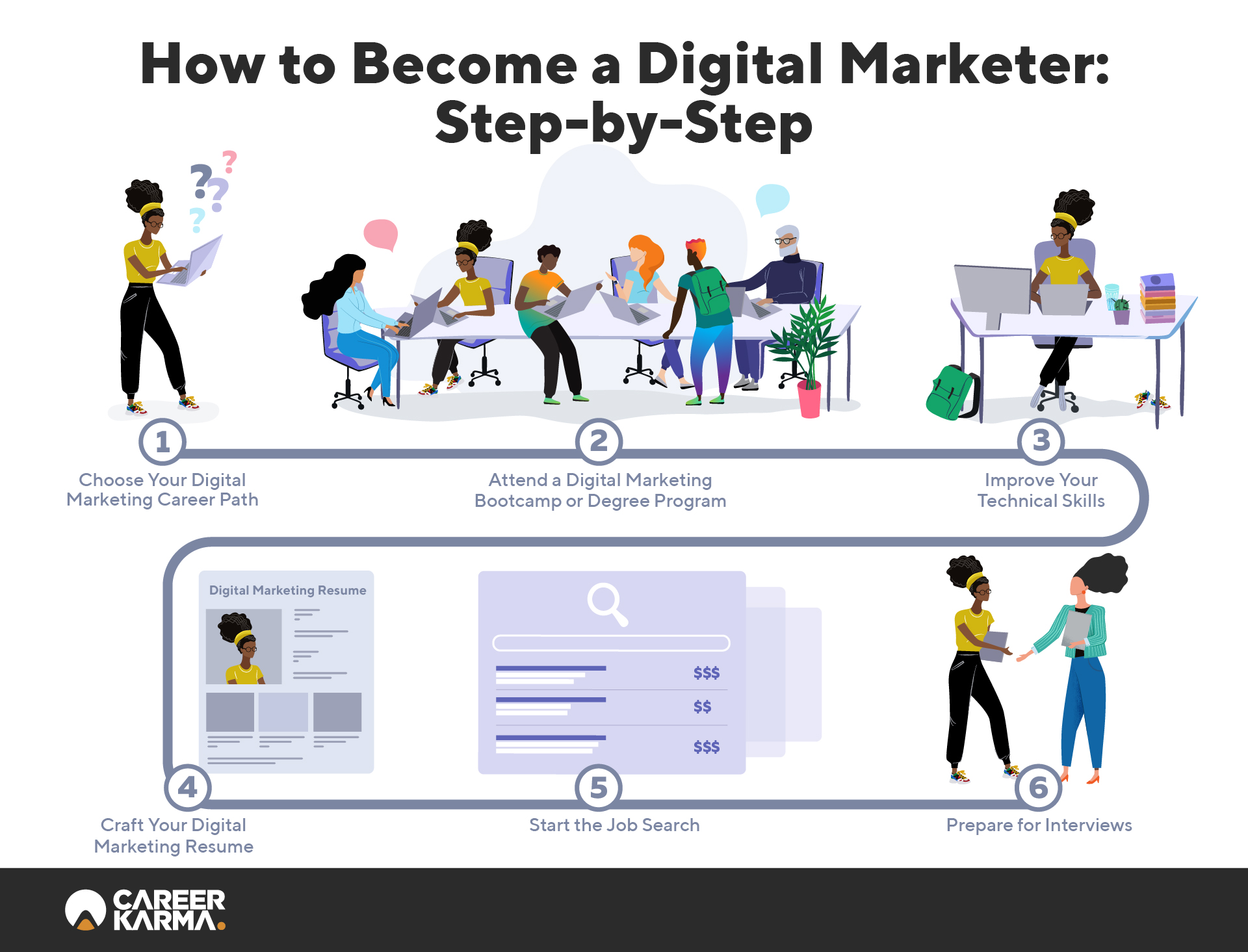 What is Digital Marketing?
Digital marketing refers to a type of marketing strategy that uses online-based technologies and digital channels to promote a company's products and services.
Types of Digital Marketing Strategies
Digital marketing is a broad field, and there are many specializations for you to choose from. Here are a few of the most popular jobs in digital marketing:
Email Marketing
Emails are the lifeblood of communication, and a well-crafted message to your customers can be like gold. If you want your company to succeed and land the fat contracts, you'll need to make sure that you have a dynamic and enthusiastic email marketing campaign.
Emails are an excellent tool for digital marketing because they allow companies to keep customers informed. Email marketing content is used to inform customers of new promotions and company news.
If you want your email campaign to really knock it out of the park, you'll want to target existing customers rather than leads you purchased. Existing customers are already informed and appreciate your products, and your campaign is much more likely to land with them. You can use email to notify your customers of changes to your company, new products they might like, or to promote loyalty.
Social Media Marketing
Because you're living in 2020, you're already aware of how vital social media is to business. Companies with a strong social media presence are the ones who get attention from customers. It's therefore incumbent on any company who wants to succeed to step up their social media engagement. For start-up tech businesses social media marketing isn't an option; it's a must.
Social media marketing has become a vital strategy. Creating content to post on Facebook, Instagram, Linkedin, and other social media pages can strengthen the bond between customer and company. Social media is a great way to share images, videos, written content, and paid advertising while increasing brand awareness and customer interaction.
Good social media strategy combines key customer information with a breezy tone that doesn't take itself too seriously. It's tough to nail, but the businesses that get the formula right have an edge on other companies and a line to a younger and more affluent demographic. Lots of unlikely companies have mastered social media marketing. For instance, Moon Pie's Twitter feed is a textbook case of primo social media advertising. It's clever, funny, and perfect for promoting their products.
Search Engine Approaches
Your tech skills can get your business startedbut your site will have to show up in your customers' searches if you want to succeed. Much of modern digital marketing involves understanding how to snag the search engines' attention and land a coveted spot at the top of a keyword search. If you can do this right, you will improve your chances of being seen and your business will be competitive.
Search Engine Optimization (SEO): SEO is one of the most common forms of digital marketing today. It's a complicated strategy that often seems as much an art as a science, and it can make or break your company's digital presence. SEO is the primary means of targeting customers through their searches. It includes specific words and phrases in your website's text so that folks who search for those phrases get linked to your page. Good SEO uses keywords in web articles that search engines like Google catch and report. When you have a well-crafted SEO strategy, the results are invisible but ensure that your product pages land at the top of the search list.
Search Engine Marketing (SEM):This is the other prong of a search engine strategy. SEM covers the paid results that you see at the top of any search. It's how Google and other search engines make their money, and it's a great way to get your business noticed.
Google Analytics: This is an essential part of digital marketing and SEO practices. You can use this tool to assess your website's SEO performance and find out what needs to be done to improve your ranking in search engine results pages (SERPs) so that you are more visible.
Online Advertising
Online advertising can come in many forms, including video, image, and text ads. These can show up on search engine results as Google Ads or as ads on websites.
What Does a Digital Marketer Do?
Digital marketers create content strategies and execute those strategies to help an organization generate leads and raise awareness for their brand. They use a variety of channels such as email, social media, and web advertisements to reach their audience. These professionals keep a company's online presence up-to-date and coordinate new content for publishing.
A part of their job description is also to collaborate with management, design, and development teams to craft campaigns. These are designed to meet the needs of an organization and showcase new products or announcements.
Digital marketers use Key Performance Indicators (KPIs) for each channel to track the performance of their campaigns. For example, they may track the number of impressions and likes on tweets or the open and read rate for their email marketing campaigns.
Learning Digital Marketing
Much like caveman paintings some 40,000 years ago, digital marketing tells a story that connects people with information. However, digital marketing courses teach far more advanced concepts than images finger-painted on stone. You'll learn how to combine digital images, videos, social media text, blogs, SEO, SEM, and advertising to help a company tell its customers a story.
To become a successful digital marketer, you need to develop a comprehensive and deep understanding of the field. It's hard work and will require a lot of discipline and patience. The good news is, with almost every aspect of our lives intertwined with the Internet, digital marketing is something that's become increasingly easy to learn. This means there no longer is a shortage of paths you can take to master digital marketing.
It helps that digital marketing classes and courses are doing the rounds online. In this section, we'll walk you through the ins and outs of learning digital marketing. So, if you are interested in discovering the strategies used by digital marketers and the best courses out there, read on for Career Karma to help illuminate your path.
How to Learn Digital Marketing: A Step-by-Step Guide
Step 1: Choose a learning path.
In the past, pursuing a four-year bachelor's degree in business management or marketing was the most popular path toward becoming a digital marketer. However, these programs do not focus specifically on digital marketing. Rather, they teach digital marketing as part of a broader course.
There is another common option available to people who want to learn digital marketing: bootcamps. Digital marketing bootcampsoffer a great alternative for people who want to avoid spending years on a degree. These short-term, intensive programs will train you in the skills you need to find a job and thrive in digital marketing.
Lastly, don't discount online courses. These may come free or with an additional fee for certification. Needless to say, online courses allow you to learn digital marketing in the comfort of your home.
Step 2: Refine Your Technical Skills
The following technical skills will come up in almost every digital marketing job, no matter what specialization you choose. These skills include technologies, processes, and other marketing tools.
Social Media Marketing. Social media marketing focuses on promoting an organization and brand through social media channels. In doing so, you can raise awareness for your content. This, in turn, generates leads who may become customers in the future. Social media marketing involves using platforms like Twitter, LinkedIn, Instagram, and Facebook to advertise a business' content, product, or services.
Automation. You should be aware of any tools that automate repetitive tasks and streamline marketing operations. For example, if you're an email marketer, you may want to automate sending customer satisfaction surveys to customers after a certain number of days.
Inbound Marketing. Inbound marketing is a type of marketing where the focus is on attracting customers by creating valuable content and experiences. It involves the use of digital marketing tools to help create a seamless customer experience. Inbound marketing can only really be understood in contrast with outbound marketing (also known as interruption marketing), where the emphasis is on advertising, promotions, public relations, and sales.
Public Relations (PR). PR has been a major part of content strategies for decades. But digital marketers need to be aware of online PR. Online PR is the online coverage on digital blogs, publications, and other websites.
Step 3: Hone the Essential Soft Skills for Digital Marketers
To be a successful digital marketer, you'll need to know more than just technical skills. You should have a set of "soft" skills as well. The top soft skills you need are as follows:
Analytical and Problem Solving Skills. As a digital marketer, you'll need to be able to think through problems analytically and come up with effective solutions. For example, you may be given a limited content budget with the task of allocating the funds. In this case, you must be able to understand the problem, gather data, and use that data to make an informed decision.
Adaptability. The marketing industry is changing quickly. Twenty years ago, social media marketing didn't exist. Now, it's imperative that you stay ahead of the latest trends in digital marketing and use what you find to inform your content strategies.
Communication. As a digital marketer, communication is key. You should be able to connect with your target audience and determine their wants and needs. Then you have to deliver your message effectively to them in such a way that they understand.
Step 4: Build Your Digital Marketing Portfolio
After getting the necessary training and education, it's time to build your portfolio. Although this isn't necessary, having one on the go will definitely increase your competency. Not to mention, it'll also guarantee you higher chances of standing out in the job-hunting process.
A digital marketing portfolio should feature projects you've completed for clients. These may have been done during an internship or externship program. Remember to ask your client's consent before including the project in your portfolio.
Don't have any experience yet? Don't worry. Simply proving your online influence will go a long way. Showcase your content. Show off your Facebook, Twitter, or Instagram presence. Do you have a blog with a decent following? Include that too.
The Best Online Digital Marketing Courses and Training
Does creating digital marketing campaigns and learning about effective business strategies sound exciting to you? Whether you're a beginner or a professional digital marketer, there is a course out there for you.
If you are ready to begin your marketing training, below are some recommended online marketing courses.
Free Online Digital Marketing Courses
A general rule when rifling through available courses online is free courses first, paid ones second. Let's stick to that rule. Here are some of the best and free digital marketing courses you can take to get you started on your education.
Google/The Open University
Course:
Fundamentals of Digital Marketing
Level:
Beginner
This extensive course by Google Digital Garage and The Open University teaches the foundations of digital marketing. The course comprises 40 hours of video content. These cover data analytics, business strategy, content marketing, display advertising, email marketing, SEM, SEO, social media, web optimization, and much more. What makes this course even better is that you won't have to pay a dime.
HubSpot Academy
Course:
Inbound Marketing
Level:
Intermediate to Advanced
HubSpot has many digital marketing courses, ranging from complete beginner to advanced specializations, such as this course. In this 48-hour free course by Hubspot, students will develop an understanding of inbound marketing. They'll leverage social media, content marketing, blogging, conversion optimization, lead nurturing, landing pages, conversational marketing, sales enablement, and customer marketing.
Wordstream's Growth Academy
Course:
Online Advertising Success
Level:
Beginner to Intermediate
This educational resource teaches marketers and entrepreneurs to grow their careers and businesses. The resources provided cover the basics of online advertising, lead generation, e-commerce strategies and management, and everything in between. These lessons are created and designed by industry-leading professionals and veterans in the field.
Constant Contact
Course:
Social Media 101: Social Media Quickstarter
Level:
Beginner
This platform contains a multitude of digital marketing guides for any aspirant. The modules heavily focus on how you can build your social media presence and influence. These include a variety of resources about how best you can utilize Facebook, Twitter, LinkedIn, Pinterest, Youtube, and Instagram, among others, to grow your career.
Paid Online Digital Marketing Courses
Udacity
Course:
Become a Digital Marketer
Price:
$1,090
Level:
Beginner
This three-month online course will help beginners grasp the basics of digital marketing. Students learn digital marketing fundamentals, content strategy, social media marketing, social media advertising, SEO, Google Ads, and email marketing. They also participate in real-world marketing projects.
The University of Illinois at Urbana-Champaign/Coursera

Course:
Digital Marketing Specialization
Price: $40-$80/month
Level: Beginner to Intermediate
This eight-month course by Coursera will provide students an area of specialization in one of several aspects of the developing digital marketing environment. Students will learn marketing, data collection, data analytics, data visualization, marketing performance, pricing strategies, and more.
Cornell University
Course:
Digital Marketing
Price:
$3,600/year or $950/month
Level:
Beginner to Intermediate
Cornell's
two-month online course provides an overview of the digital marketing landscape, preparing students to implement a marketing framework within an organization. Students will learn about the customer funnel, paid digital media, owned digital media, creating a digital marketing plan, and more.
The University of Vermont
Course:
Advanced SEO
Price:
$950
Level:
Intermediate to Advanced
This online course at the
University of Vermont
s a four-week in-depth look at digital marketing strategies. Students will learn about creating SEO-friendly websites, search engine foundations, online competitor research, search engine ranking factors, keyword research, HTML, and more.
Simplilearn
Course:
Advanced Pay Per Click (PPC) Training Certification
Price:
$905 (self-paced) or $1,293 (online bootcamp)
Level:
Advanced
Simplilearn has digital marketing courses for beginners to advanced learners, including this PPC training certification. Students will become PPC specialists by studying Google Ads, Google Analytics, conversion tracking, search psychology, keyword research, remarketing, and more.
Northwestern University
Course:
Digital Marketing Strategies: Data, Automation, AI & Analytics
Price:
$2,600
Level:
Advanced
This online course through Northwestern's Kellogg School of Management is for business managers and leaders who want to better understand modern digital marketing.
Over two months, participants will learn about social data mining, artificial intelligence applications, and customer experience mapping. Behavioral marketing, marketing attribution, content management, and brand storytelling will also be covered.
Digital Marketing Career Outlook
Now that you've learned the ins and outs of digital marketing, it's time to put your knowledge to use. Below are some information regarding the digital marketing field and the different paths and salaries you can expect in the future.
Digital Marketing Career Paths

Digital marketing is a broad field with many specializations for you to choose from. Here are a few of the most popular jobs in the field.
SEO Manager
Median Salary:
$62,621
SEO managers increase the visibility of a company's campaigns and other content. With their help, a company website's ranking on search engine results pages (SERPs) like Google is optimized. An improved ranking will lead to increased traffic without having to spend any money.
Social Media Manager
Median Salary:
$50,473
Social media managers manage an organization's social media presence. They create a content schedule that determines when a company posts on social media. A part of their duties is working with the rest of the organization to determine what content should be posted on which social network.
Content Marketing Specialists
Median Salary:
$65,834
Content marketing specialists figure out how an organization can deliver its content effectively. They come up with editorial calendars and content strategies that showcase a company's products and services. These specialists work with SEO managers and the rest of the digital marketing team to create a broader content strategy.
Should You Learn Digital Marketing?
Over $330 billion was spent globally on digital marketing in 2019, meaning there are plenty of marketing career options. According to the Bureau of Labor Statistics a marketing manager earns a median salary of $135,900 per year. Thus, enrolling in a digital marketing course is a worthy investment.
Consider whether you are interested in learning about how marketing and advertising techniques can help a business grow and connect with customers. If you are, an online digital marketing course will help you achieve your career dreams. If you are really committed, you could also pursue a master's degree in digital marketing.
And if you still need guidance, Career Karma is here to provide you with the support you need, from choosing a career path to helping you find a training program. We'll give you the coaching, mentorship, and resources you need to break into a new career in digital marketing.
There has never been a better time to get into digital marketing—you can get started today!
How much can you earn?
(source: Glassdoor)
Companies that Hire Bootcamp Grads







Learn about other top in-demand careers in technologies